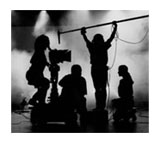 Contiloe Pictures Private Ltd. is one of India's leading producers of Factual and Non-factual Programming.
With offices based in Mumbai and New Delhi India, Contiloe Pictures Private Ltd. has a reputation for providing high quality and diversified content. Contiloe was founded in 1995 by Abhimanyu Singh to provide quality video production services to television stations, non-profit organizations and government agencies.
Contiloe Pictures has since grown into a fully integrated and diversified film & television software company, with productions that span across all genres; drama, comedy, thriller/horror, anchor driven film and event based shows, documentaries, music videos, feature films and much much more. Over the years, Contiloe has received numerous awards for its top quality productions.
From day one, delivery has been concise, rapid and fluid; maximizing the medium's particular qualities and allowing for lower price points, much to the benefit of budget conscious clients. Additionally, our constant drive for excellence has helped to establish very successful relationships with the leading National and International Broadcasters.
From creative conception to final execution and delivery, Contiloe Pictures is a fully integrated production house, which prides itself on quality and excellence at a National and International level!